Our Vision
As a leader in GFRG Access Panels and Doors, we are driven to create beautiful seamless solutions for construction projects in HVAC Access Panels & Doors, Plumbing Access Panels & Doors, Electrical Access Panels & Doors, Mechanical Access Panels & Doors worldwide.
Our values guide us to lead and inspire our industry, our creative process with the best employees and partners continues to grow our business, our relationships, and our company whose beauty and innovation is everlasting.
Creating…Seamless…Solutions…
Our Values
Leadership
Excellence in customer service
Commitment and accountability
Continuous improvement
Quality Products
Free delivery for qualifying customers
Respect for our clients building loyalty and trust
Success in quality and craftsmanship
Satisfaction guarantee
Our Mission
The spirit of innovation, coupled with a rigid adherence to the highest standards in single source manufacturing, quality and consistency has made the Castle "Seamless" brand the unquestioned leader in the GFRG Access Panels and Doors.
We are committed to building loyalty and trust among a growing number of customer relationships with our OEM's, Distributors, Building Professionals, Architects and Engineers.
History
From humble beginnings, Joey Rea founded his gypsum moulding business from a garage in 1990.
In 2003 Ingrid Rea joined her husband in the gypsum business and in 2006 Castle Access Panels & Forms was born.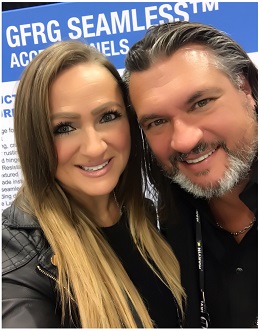 Creating a family owned business, together they successfully grew the business to its 24,000 sq/ft manufacturing factory, complete with design, mould making and shipping their products throughout North America.
Castle Access Panels & Forms Inc. has been uncompromising in its commitment to deliver the highest quality products and services our clients demand, anywhere they need them.